Chronic Pain – Persistent Pain
So many are facing the challenge of daily Pain.  Pain creates changes in the body and changes in the brain that perpetuate other conditions and health problems – and the vicious pain cycle continues.
We can help you break the chronic pain cycle!
Besides the loss of quality of life and the devastating effects on mental and emotional health, the cost of persistent pain is sometimes a pill too big to swallow, both on the individual and the community.  We have a clinic dedicated to treating the source of your pain and breaking the pain cycle – not only managing symptoms.
W not only treat headache and migraine pain either but many types of Chronic Pain and conditions.  In Fact, we get great results with Nerve Pain / Neuropathic Pain also, which is often the hidden driver for many persistent pain conditions.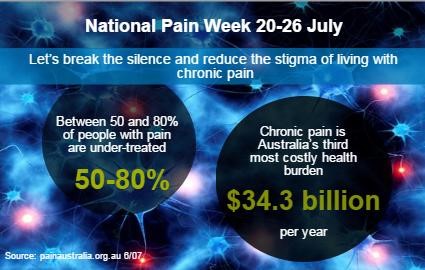 At The Headache and Migraine Clinic TM we provide solutions not just services. We will help you on your health journey and help you make specific and achievable goals with our "S.T.E.P. in Freedom ™ Program" and minimise the impact pain has on your life.
Getting to the bottom of a pain problem can sometimes be challenging.
An individualized treatment plan based on the latest neuroscience education will help you understand what pain is and how to help the body, brain and nervous system to "turn the volume down" on pain. We find if you treat the cause not just the symptoms, the results can be astounding.  
With our unique combined therapy approach, it is possible to not only manage pain but to actually relieve and treat your chronic pain by permanently reducing sensitivity in the nervous system. We are passionate about empowering you with new habits, new skills, attitudes and strategies to no longer feel controlled or live in fear of Pain.
As seen in the picture below stress, feelings of helplessness, anger and frustration can be associated with growing disruption of your lifestyle due to unmanaged pain. As you gradually do less of your "usual" activities, it is easy to lose a sense of just who you are and this will increase stress and the cycle continues.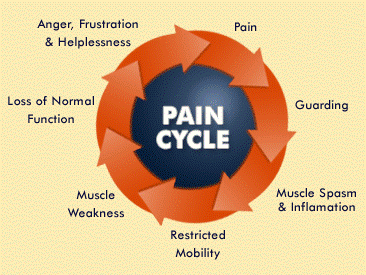 Fear is also a common emotional response. It is normal to be fearful when you do not understand what is happening to you and fearful to move and resume normal activities.
Physiotherapists are experts at advising how to implement staged and meaningful changes to your body, brain and lifestyle to reduce chronic pain (Moseley 2002, O'Sullivan 2009).  With the Bio-Psycho-social and holistic understanding of pain we can teach you "how" to make real changes that are most important to get your quality of life back!
The first step in taking charge of pain management is hearing your story of how the pain began. It is important for you and us to learn as much as we can about your condition so we can educate you further and provide real, non-pharmacological solutions to your persistent pain including advice, chronic pain and neuroscience education, massage, manipulation/mobilisation to the spine, muscles, nerve tissue interfaces, acupuncture, exercise therapy, laser therapy, counselling, nutrition and much more.
One of things the research says over and over is a mind-set shift is most helpful for those who suffer chronic pain.  The nervous system becomes over stimulated and sensitised and can drive persistent pain even when the initial injury or threat is long gone. We find retraining the brain in conjunction with treating the body yields best and most lasting results.
The Chronic Pain Cycle:
Stress is not only associated with Chronic Pain, but can be a main driver and factor in persistent pain. What is the single most important thing you can do to relieve stress?
Check out this short, but informative video clip.
The Single most important thing you can do for your Stress:
We often use staged Exercise Therapy in our approach to reduce Chronic Pain – as the research suggests.  Hippocrates, the Father of Modern Medicine even said that "Walking is man's best Medicine"  Click the link below to watch this short video lecture which will both inform you and inspire to Walk out of Pain!
Exercise is Medicine!
To receive a complimentary 15 minute phone consult to discuss your Migraine
call us on 1300 HOPE 4 YOU (1300 467 349) or book an appointment.
Vos, T, Flaxman, A.D, Naghav,i M, et al. (2012). "Years lived with disability (YLDs) for 1160 sequelae of 289 diseases and injuries 1990-2010: A systematic analysis for the Global Burden of Disease Study". Lancet 2012; 380: 2163–2196
Headache Classification Committee of the International Headache Society. The International Classification of Headache Disorders, 3rd edition. Cephalalgia 2013; 33: 629–808.
Lipton, R.B et. al. (2001) "Prevalence and burden of Migraine in the United States". Headache 2001:41 646-657
Watson, D, (2015) "Sensitive New Age Migraine"; video lecture
Goadsby,, P.J. (2009) "The vascular theory of Migraine. A great story wrecked by the facts". Brain, 132 (1), pp 6-7.
Steiner, T.J, Birbeck, G.L, Jensen R, et al. "Lifting The Burden: The first 7 years". J Headache Pain (2010); 11: 451–455.
Watson, D. and Drummond (2014). "Cervical Referral of Head Pain in Migraineurs: Effects on the Nociceptive Blink Reflex""Cephalalgia. 54: 1035-1045. Doi 10.1111/head.12335.
Watson, D. Drummond, P.D. (2012). "Head Pain Referral During Examination of the Neck in Migraine and Tension-Type Headache". Headache. 52: 1226-1235. Doi: 10.1111/j.1526-4610.2012.02169.x
The Headache + Migraine Clinic Affiliates